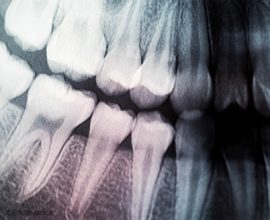 Even the most visually astute dentist cannot see what is inside a tooth or the gum tissue. Surface examinations can only do so much. That is why it is nice to live in an age where science has invented X-ray cameras. In this way, dentists can accurately treat an oral health problem that may adversely affect us before it can become serious.
Radiographs, or taking pictures with a dental X-ray camera, is a valuable diagnostic tool with which to check for cavities and other issues. Not only do they allow us to see inside a tooth, but we can measure the overall length of the tooth from cusp to root, check the tissue for cysts and cancers, and even evaluate the health of the bone in your jaw and upper mandible.
There are several types of X-rays that are taken at a dental office. The most common types are called bitewing, periapical and panoramic radiographs. The bitewing focuses upon the crown portions of the teeth, the periapical gives us a good look at your teeth's bone height or root tips, and the panoramic X-ray produces an image of the entire oral cavity in one large picture. Normally, we will want new X-rays taken annually, unless there is a dental issue that needs to be monitored more frequently.
If you would like to speak to our dentist about bleeding gums, call our helpful team at Louisiana Dental Center. Phone: (985) 643-8800. Make an appointment or come by our office in Slidell, Louisiana.